Gisenyi, also known as Rubavu, is a scenic and popular resort town located in the Western Province of Rwanda, along the shores of Lake Kivu. It is situated near the border with the Democratic Republic of Congo (DRC) and is known for its beautiful landscapes, lakeside views, and outdoor recreational opportunities. Gisenyi is situated on the northern shore of Lake Kivu, one of Africa's Great Lakes. The lake is known for its clear waters, beautiful sunsets, and opportunities for water-based activities such as swimming, kayaking, and boat tours. The city boasts several sandy beaches along the shores of Lake Kivu. These beaches are popular for sunbathing, picnicking, and swimming. The calm waters of the lake make it a safe place for water activities. Gisenyi has bustling local markets where you can shop for souvenirs, fresh produce, and traditional crafts. It's a great place to experience the local culture and purchase Rwandan products.
Gisenyi is home to natural hot springs, which are believed to have therapeutic properties. Visitors can soak in the warm, mineral-rich waters of the hot springs, which are said to have healing benefits for various ailments. Also offers opportunities to explore Rwandan culture and traditions. Visitors can interact with local communities, learn about their way of life, and experience traditional dances and music. The nearby Virunga Mountains, which straddle Rwanda, Uganda, and the DRC, are a haven for mountain gorilla trekking. Gisenyi serves as a gateway for tourists interested in visiting Volcanoes National Park for gorilla tracking and other wildlife encounters. The town features a pleasant waterfront promenade where visitors can take leisurely strolls, enjoy lake views, and dine at lakeside restaurants and cafes.  
The surrounding area offers hiking and nature trails that take you through lush forests and offer scenic viewpoints. One popular destination for hiking is Mount Rubavu, which provides panoramic views of the lake and the town. Gisenyi's natural beauty, outdoor activities, and cultural experiences make it a popular destination for both domestic and international tourists. Whether you're interested in exploring the serene lakeshore, indulging in local cuisine, or embarking on adventurous treks, Gisenyi offers a range of experiences that showcase the beauty of Rwanda's Western Province. While it may not have the same bustling urban scene as Kigali, it is known for its natural beauty, cultural heritage, and opportunities for relaxation and adventure. 
Places To Sight/Visit While You Are On Gisenyi City Tour
Lake Kivu Beaches
Lake Kivu, one of Africa's Great Lakes, offers a picturesque setting with its clear waters and surrounding hills. Gisenyi, also known as Rubavu, is a popular destination along the lake's shores, known for its beautiful beaches. Gisenyi is known for its stunning Lake Kivu beaches, visitors can relax on the sandy shores, swim in the crystal-clear waters, or take boat rides to explore the lake's islands and enjoy panoramic views of the surrounding hills.
Here are some Lake Kivu beaches in Gisenyi that you can visit:
Palm Beach: Palm Beach is one of the most well-known and frequently visited beaches in Gisenyi. It offers a relaxing environment with white sandy shores and shaded palm trees. Visitors can swim in the clear waters of Lake Kivu, sunbathe on the beach, or rent a kayak or paddleboard to explore the lake.

Inzu Lodge Beach: Inzu Lodge is a lakeside lodge with a private beach that welcomes both guests and day visitors. It's a serene spot to unwind by the lake, enjoy a meal at the lodge's restaurant, and take in the beautiful views of Lake Kivu.

Paradise Malahide Beach: Paradise Malahide Beach is another tranquil beach option in Gisenyi. It's known for its clean and quiet atmosphere, making it a great place to escape the crowds and relax in a natural setting.

Ubumwe Grande Beach: Ubumwe Grande Beach is part of the Ubumwe Grande Hotel complex. It offers a pleasant place to swim, sunbathe, and enjoy a meal or refreshments at the hotel's restaurant and bar.

Lake Kivu Public Beach: This is a public beach where both locals and tourists gather to enjoy the lake. It's a great spot to experience a lively atmosphere and interact with the local community. You can also find food and drinks vendors nearby.

Lavendar Island Beach: Lavendar Island is a small island on Lake Kivu that can be reached by boat from Gisenyi. It offers a unique beach experience with a touch of adventure. Visitors can explore the island, relax on the beach, and enjoy its natural beauty.
While visiting these beaches, you can engage in various activities such as swimming, sunbathing, kayaking, paddleboarding, and even taking boat rides to explore the lake further. Additionally, many of these beaches have restaurants and bars where you can savor Rwandan cuisine or enjoy refreshing drinks while taking in the stunning lake views. Whether you're seeking relaxation or adventure, Lake Kivu beaches in Gisenyi offer a range of options for a memorable lakeside experience.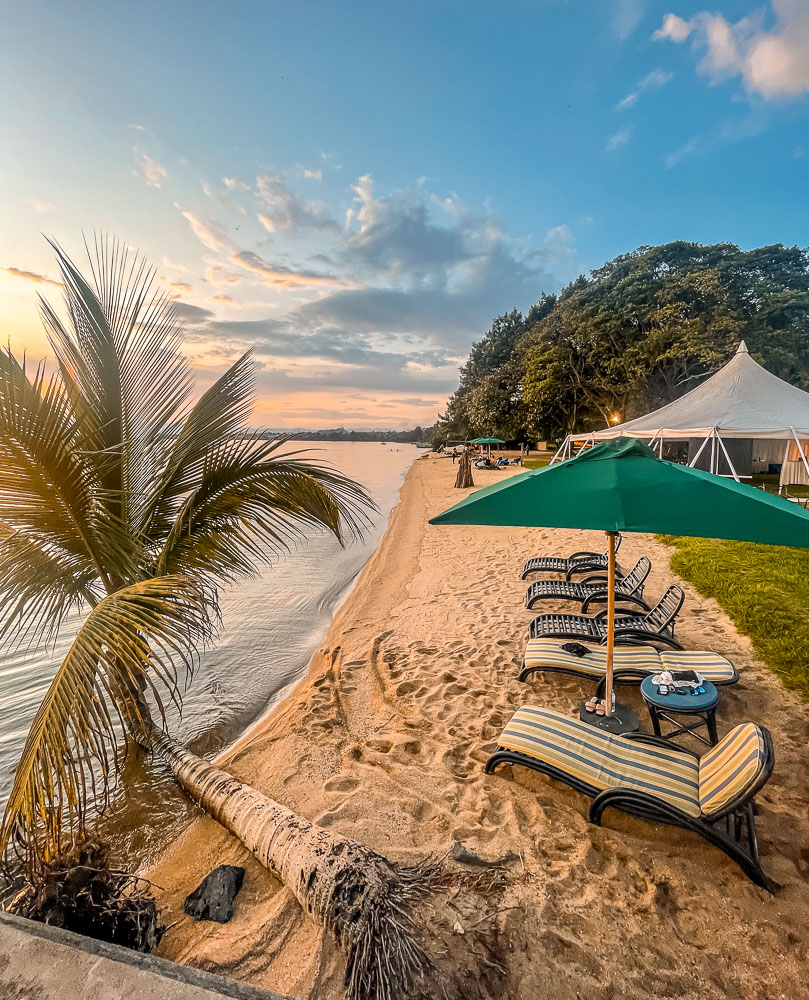 Nyamyumba Hot Springs
The Nyamyumba Hot Springs are located in the town of Gisenyi, which is situated on the shores of Lake Kivu in Rwanda. The hot springs are nestled in a lush, scenic area surrounded by tropical vegetation, creating a tranquil and picturesque setting for visitors. The warm waters of the Nyamyumba Hot Springs are known for their mineral content, including various elements and trace minerals. It is believed that soaking in these mineral-rich waters can have several potential health benefits, such as relieving muscle and joint pain, improving blood circulation, and promoting relaxation and stress relief. Many people visit these hot springs with the intention of experiencing these therapeutic effects.
In addition to their potential health benefits, the Nyamyumba Hot Springs provide a unique and enjoyable experience for visitors. You can relax in natural pools filled with warm water, surrounded by the beauty of nature. Some of these pools are large enough to accommodate multiple people, making them ideal for socializing and unwinding with friends and family. While in Gisenyi, visitors can also explore other attractions in the area, such as the beautiful Lake Kivu, which offers opportunities for water sports, boat trips, and lakeside relaxation. The town itself has a relaxed atmosphere and is known for its friendly locals, making it a pleasant place to spend some time.
Overall, the Nyamyumba Hot Springs in Gisenyi offer a unique combination of natural beauty and potential health benefits, making them a popular destination for relaxation and rejuvenation in Rwanda.
Water Sports
Lake Kivu provides opportunities for various water sports, including kayaking, paddleboarding, and jet-skiing. It's a great place to enjoy aquatic activities and the picturesque scenery. The lake's clear waters and stunning surroundings make it a perfect place to engage in various aquatic activities lake's clear waters and stunning surroundings make it a perfect place to engage in various aquatic activities.  
Here are some popular water sports and activities that visitors can enjoy on Lake Kivu:
Kayaking: Kayaking is a great way to explore the tranquil waters of Lake Kivu while enjoying the beautiful scenery. You can rent kayaks and paddle along the shoreline or venture out to explore the islands and coves that dot the lake.

Paddleboarding: Stand-up paddleboarding (SUP) is another relaxing and enjoyable way to experience the lake. Paddleboards can be rented, and you can glide across the calm waters, taking in the sights and sounds of the lake.

Jet-skiing: For those seeking a more exhilarating experience, jet-skiing is a popular option. You can rent jet skis and zip across the lake's surface, feeling the wind in your hair and enjoying the adrenaline rush.

Boating: Lake Kivu offers opportunities for traditional boating as well. You can take a leisurely boat ride to explore the lake, visit nearby islands, or simply relax on the water.

Fishing: The lake is home to various fish species, making it a great place for fishing enthusiasts. You can try your hand at fishing and, if successful, even have your catch prepared by local restaurants.

Swimming: The lake's clean waters are ideal for swimming. Many hotels and resorts along the shoreline have private beaches and swimming areas where you can take a dip and cool off.
Cultural Tours
Explore the local culture by visiting traditional villages, interacting with locals, and experiencing Rwandan customs and traditions. You can also attend traditional dance performances and learn about the local way of life.You can arrange visits to traditional Rwandan villages near Lake Kivu. This provides an opportunity to witness and learn about the daily lives of the local people. You can see traditional housing, participate in activities like cooking, and engage in conversations with villagers to gain insights into their culture
Guided tours can introduce you to various customs and traditions of Rwanda. This may include rituals, ceremonies, and practices that have been passed down through generations. You can participate in traditional ceremonies or witness them being performed. Rwandan dance is an integral part of the culture, and you can attend traditional dance performances where skilled dancers showcase their talent. The dances often have symbolic meanings and are accompanied by rhythmic music.Rwanda has a rich tradition of arts and crafts. You can visit local artisans and workshops to see the creation of traditional handicrafts, such as basket weaving and pottery. You might even have the opportunity to try your hand at these crafts.
Cultural tours and experiences not only enrich your travel experience but also promote cultural exchange and understanding. They offer a chance to appreciate the diversity and authenticity of Rwanda's culture while fostering connections with the local community. These experiences can be both educational and deeply rewarding for travelers interested in exploring the cultural side of Lake Kivu and its surroundings.
Boat Cruises
Take a boat cruise on Lake Kivu to explore its islands, see local fishing communities, and enjoy the serene beauty of the lake. Sunset cruises are particularly popular for their breathtaking views. Boat cruises on Lake Kivu offer a blend of natural beauty, cultural immersion, and relaxation. Whether you choose a daytime exploration or a mesmerizing sunset cruise, it's an experience that will leave you with lasting memories of the serene beauty of this Rwandan gem
Island Exploration: Lake Kivu is dotted with several islands, each with its own charm and attractions. A boat cruise allows you to explore these islands, such as Napoleon Island and Amahoro Island. You can disembark on some of them to hike, visit local communities, and enjoy the natural beauty.
Local Fishing Communities: Lake Kivu sustains a thriving fishing industry, and you can observe the daily activities of local fishing communities as you cruise along the shoreline. This provides insights into the traditional fishing methods and the livelihoods of the people who depend on the lake.
Scenic Beauty: The lake's clear blue waters are surrounded by lush green hills and mountains, creating a picturesque backdrop for your cruise. The calm waters and fresh air make it an ideal setting for relaxation and enjoying the tranquility of nature.
Sunset Cruises: Sunset cruises on Lake Kivu are particularly popular for their breathtaking views. As the sun sets behind the hills, the sky is painted with vibrant colors, casting a warm and magical glow over the lake. It's a perfect time to unwind, take photos, and appreciate the beauty of the moment.
Relaxation and Photography: Whether you're on a daytime cruise or a sunset excursion, the boat provides a peaceful environment to relax and take photographs. The ever-changing scenery and the play of light and shadows make for stunning photo opportunities.
Private Charters: If you're looking for a more personalized experience, some operators offer private boat charters. This allows you to customize your itinerary and cruise at your own pace, making it an ideal option for special occasions or romantic getaways.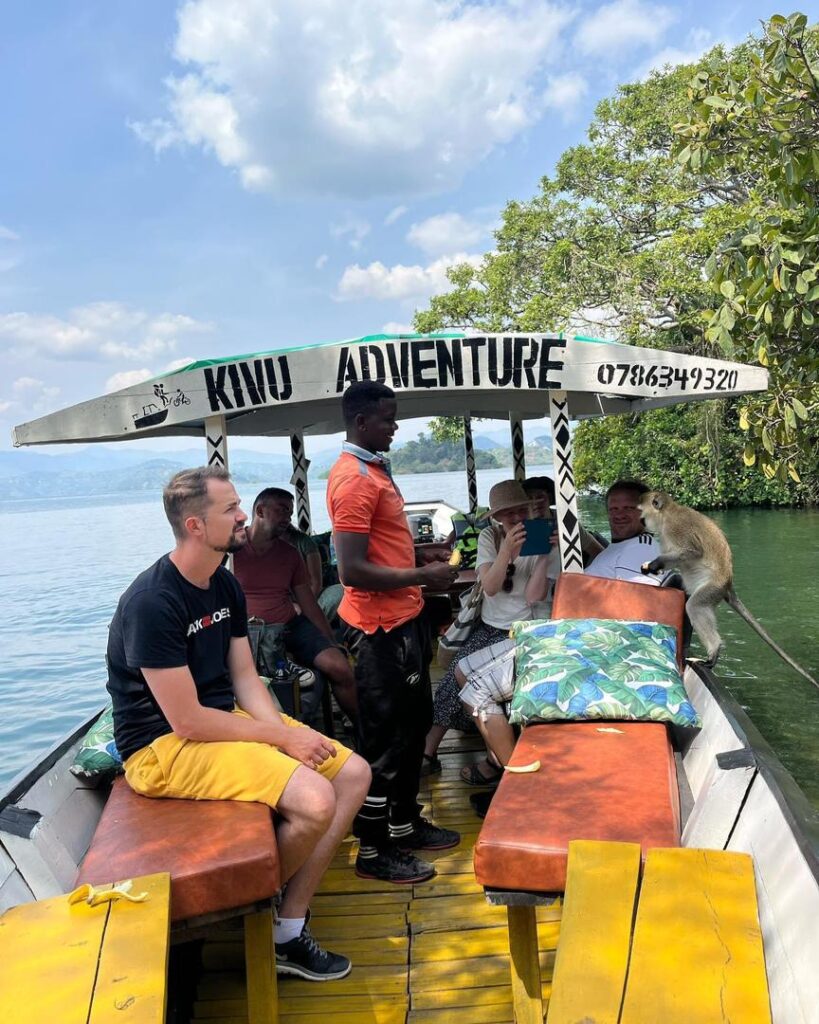 Rusizi National Park
Just a short drive from Gisenyi, Rusizi National Park is home to a range of wildlife, including hippos, crocodiles, and various bird species. You can take a guided boat tour to observe the wildlife. This park is known for its diverse range of wildlife and provides an excellent opportunity for nature enthusiasts and wildlife lovers to observe some of Africa's iconic animals.
Wildlife Viewing: Rusizi National Park is home to a variety of wildlife species, with hippos and crocodiles being among the most famous inhabitants. You can take a guided boat tour on the Rusizi River, which flows through the park, to get up close to these animals in their natural habitat. The boat tour allows you to safely observe hippos and crocodiles while learning about their behavior and biology from knowledgeable guides.
Birdwatching: The park is also a haven for birdwatchers, as it hosts numerous bird species. The boat tour provides an opportunity to spot a wide range of avian life, including waterfowl, herons, kingfishers, and other aquatic birds. Birdwatchers can enjoy the diverse birdlife while cruising along the riverbanks.
Rusizi National Park, located just a short drive from Gisenyi, is indeed a notable wildlife sanctuary, exploring this national park offers a unique opportunity to connect with nature and witness the fascinating wildlife that calls this part of Rwanda home.
Gisenyi Local Markets
Visit the local markets in Gisenyi, such as Gisenyi Market, to shop for fresh produce, crafts, and souvenirs. It's also an opportunity to interact with locals and experience the vibrant market culture. Gisenyi Market and other local markets in the area are bustling hubs for fresh fruits, vegetables, and other locally sourced food products. You can find a wide variety of seasonal produce, from exotic fruits to vegetables and spices. It's a great place to taste and purchase fresh ingredients that are used in Rwandan cuisine.
In addition to food items, the markets often feature stalls selling handmade crafts and souvenirs. You can shop for traditional Rwandan handicrafts such as woven baskets, colorful fabrics, jewelry, wood carvings, and more. These items make for unique and meaningful souvenirs to bring back home
By shopping at local markets, you directly support the livelihoods of small-scale vendors and artisans. Your purchases contribute to the local economy and help sustain the market culture. When visiting the markets in Gisenyi, it's a good idea to bring cash in the local currency, Rwandan francs (RWF), as many vendors may not accept credit cards. Bargaining is also common in Rwandan markets, so don't hesitate to negotiate prices, but always do so respectfully.
Goma, DR Congo
Gisenyi is located on the border with the Democratic Republic of Congo (DRC). With the appropriate visas and permissions, you can cross into Goma, where you can explore its markets, restaurants, and nearby Virunga National Park, known for its mountain gorillas. Goma is a bustling city with its own unique charm. You can explore its markets, restaurants, and cafes, experiencing the local culture and cuisine. Try some Congolese dishes and interact with the friendly locals. 
One of the major attractions near Goma is Virunga National Park, a UNESCO World Heritage Site. The park is renowned for its diverse wildlife, including the critically endangered mountain gorillas. You can arrange guided treks to see these magnificent creatures in their natural habitat. The park also offers opportunities for hiking, birdwatching, and experiencing the stunning landscapes of volcanoes and lush forests. In Goma and the surrounding areas, you can immerse yourself in the local culture. Visit traditional villages, engage with local communities, and learn about the customs and traditions of the Congolese people.
Crossing the border from Gisenyi into Goma can provide a unique opportunity to explore a different part of the Great Lakes region of Africa, with its rich culture, wildlife, and natural beauty.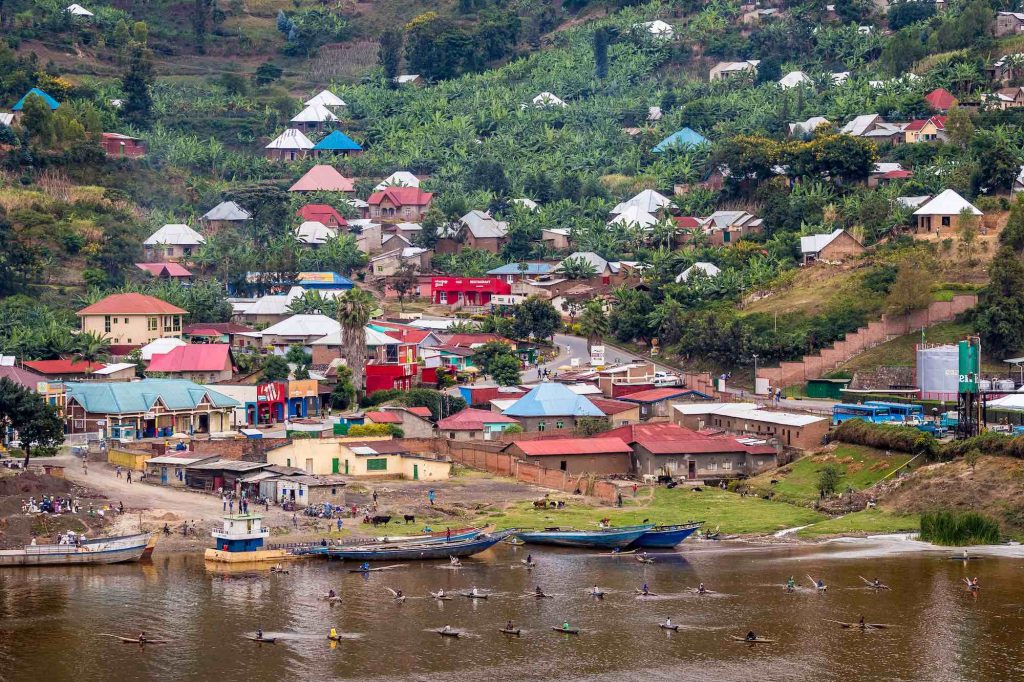 Gisenyi Genocide Memorial
Pay your respects at the Gisenyi Genocide Memorial, which honors the memory of the victims of the Rwandan Genocide. It's a place of remembrance and reflection. The Rwandan Genocide, which took place in 1994, was a tragic and devastating event in which an estimated 800,000 people, primarily of the Tutsi ethnic group, were killed in a span of just 100 days.
The memorial often includes informative exhibits that provide historical context and detail the events leading up to and during the genocide. These exhibits help visitors understand the complexity and tragic consequences of the genocide. The memorial may include names and photographs of some of the victims, helping to personalise the tragedy and ensure that the memory of those who perished is preserved for future generations. The memorial provides a place for reflection and meditation, allowing visitors to honor the victims and contemplate the importance of promoting peace, reconciliation, and unity in Rwanda and the world.
Visiting a genocide memorial can be emotionally challenging but is also an important part of understanding Rwanda's history and its path toward healing and reconciliation. It serves as a reminder of the devastating consequences of hatred and violence and underscores the importance of working toward a more peaceful and just world. When visiting such a memorial, it's essential to approach it with respect, sensitivity, and a willingness to learn and reflect on the lessons of the past to ensure that such atrocities are never repeated.
Local Cuisine
Savor Rwandan cuisine at local restaurants, trying dishes like brochettes (skewered meat), ibirayi (fried fish), and Rwandan coffee. Brochettes are a popular street food and snack in Rwanda. They consist of skewered and grilled meat, often marinated in flavorful spices. You can find brochettes made from beef, goat, or chicken. They are typically served with a spicy sauce and can be enjoyed as a tasty and satisfying treat. Ibirayi refers to fried fish, which is commonly enjoyed in the lakeside areas like Gisenyi due to the proximity of Lake Kivu. The fish is usually seasoned and fried to perfection, resulting in a crispy and flavorful dish. It's often served with a side of vegetables or starches.
Rwandan coffee is renowned for its quality and distinctive flavor. You can enjoy a cup of freshly brewed Rwandan coffee at local cafes and restaurants. Rwandans take pride in their coffee production, and tasting it is a must for coffee enthusiasts. In addition to coffee, you can try other local beverages such as ikivuguto, a fermented milk drink, or urwagwa, a traditional banana beer. These beverages offer a taste of Rwandan culinary traditions.
When dining at local restaurants in Gisenyi or other parts of Rwanda, you'll have the opportunity to experience the country's culinary diversity and savor the flavors of its delicious dishes. Don't hesitate to ask for recommendations from locals or try street food vendors to fully immerse yourself in the local food culture.
Gisenyi Night Life
Absolutely, Gisenyi's nightlife scene is indeed more laid-back compared to larger cities, but it offers a unique and relaxed atmosphere for those looking to unwind and socialise in the evening. It's important to note that the nightlife in Gisenyi tends to be quieter and more relaxed compared to major cities. It's a place where you can unwind by the lake, have conversations with friends, or simply enjoy the tranquil ambiance. Additionally, the availability of nightlife options may vary depending on the day of the week and the time of year, so it's a good idea to check with local residents or establishments for the latest information on events and activities happening during your visit.
Lakeside Restaurants and Bars: Many lakeside restaurants and bars in Gisenyi offer a relaxed and picturesque atmosphere in the evening. You can enjoy a drink or a meal with a view of Lake Kivu, especially during sunset. Some places may also featur e live music or cultural performances on certain nights.
Hotel Bars: Several hotels in Gisenyi have bars and lounges that are open to both guests and non-guests. These venues often have a selection of drinks and can be a comfortable setting for a relaxing evening.
Local Bars and Pubs: Gisenyi has a few local bars and pubs where you can mingle with both locals and fellow travelers. These spots often serve cold Rwandan beers and other beverages, and they can provide a glimpse into the local nightlife scene.
Nightclubs: While Gisenyi's nightlife is generally more low-key, you may find the occasional nightclub or dance club that offers music and dancing into the late hours. These venues may have themed nights or special events on weekends.
Cultural Performances: Some hotels and cultural centers occasionally host traditional dance performances or live music events in the evening. These performances can be a great way to experience Rwandan culture and entertainment.
Dinner Cruises: Some tour operators in Gisenyi offer dinner cruises on Lake Kivu in the evening. This can be a unique way to enjoy a meal while taking in the scenic beauty of the lake.
Casinos: Some larger hotels and resorts may have small casinos where you can try your luck with various games, including slot machines and card games.