Nairobi is Kenya's capital city. In addition to its urban core, the city has Nairobi National Park! The only national park in the world found in a large capital city of Kenya. A large game reserve known for breeding endangered black rhinos and home to giraffes, zebras and lions and many more wildlife. Next to it is a well-regarded elephant orphanage operated by the David Sheldrick Wildlife Trust. Nairobi is also often used as a jumping-off point for safari trips elsewhere in Kenya. The city, has a vibrant metropolis with a wide range of attractions that cater to diverse interests, from wildlife enthusiasts to culture seekers. Today, Nairobi is a dynamic and diverse city that reflects Kenya's rich cultural heritage and serves as a gateway to the country's natural wonders, including national parks and reserves. Its history, marked by colonial influence, independence, and urbanisation, contributes to its unique character and continues to shape its future.
The area that is now Nairobi was historically inhabited by the Maasai people, who were nomadic herders. The Maasai called the place "Enkare Nairobi," which means "cool water" in their language, referring to the Nairobi River that runs through the region. During the colonial period, Nairobi experienced significant development as an administrative and commercial hub. European settlers began to establish farms and businesses in the area. This era of British colonial rule laid the foundation for the city's infrastructure and institutions. Nairobi played a role in World War I as a staging point for British military operations in East Africa against German forces.
Kenya gained independence from British colonial rule in 1963, and Nairobi became the capital of the newly independent nation. The city continued to grow and modernise, serving as Kenya's political, economic, and cultural centre. Nairobi has a thriving arts and cultural scene, with museums, galleries, theaters, and music venues. It hosts various cultural festivals, art exhibitions, and performances. The city is home to several wildlife conservation organisations, including the David Sheldrick Wildlife Trust and the Giraffe Centre, which work to protect and rehabilitate Kenya's wildlife. Nairobi offers a unique juxtaposition of modern city life and natural beauty, making it a vibrant and exciting destination for travellers interested in wildlife, culture, and urban exploration. Whether you're interested in exploring national parks, learning about Kenyan history and culture, or experiencing the city's vibrant arts scene, Nairobi has something to offer everyone.
Places To Sight/Visit While You Are On Nairobi City Tour
Nairobi National Park
Nairobi National Park is a unique and remarkable wildlife reserve located just a short distance from the city center of Nairobi, Kenya. It's one of the few national parks in the world situated within a capital city's boundaries, making it a must-visit attraction for both tourists and residents. Despite its proximity to a major city, Nairobi National Park is home to a wide variety of African wildlife. Visitors can expect to see animals such as lions, leopards, cheetahs, hyenas, giraffes, zebras, buffaloes, and various antelope species. The park also hosts over 400 bird species, making it a popular destination for birdwatchers.
The park offers visitors the opportunity to go on game drives to observe and photograph the diverse wildlife. You can explore the park in your own vehicle or hire a local guide. Some operators also offer guided safaris with knowledgeable rangers who can provide valuable insights into the park's ecosystems. Nairobi National Park provides stunning views of the Nairobi skyline, including the iconic backdrop of the city's high-rise buildings against the backdrop of open savannah, giving it a unique and picturesque appeal.
Within the park, there is a wildlife orphanage that cares for and rehabilitates injured or orphaned animals. It's a great place to see animals up close and learn more about the park's conservation efforts. Nairobi National Park offers a unique opportunity to experience a taste of the African wilderness and observe a wide range of wildlife right on the doorstep of a major city. It's a testament to Kenya's commitment to conservation and the coexistence of urban and natural environments.
David Sheldrick Wildlife Trust
The David Sheldrick Wildlife Trust (DSWT) is a renowned wildlife conservation organization based in Nairobi, Kenya, that is primarily focused on the rescue and rehabilitation of orphaned and injured elephants and rhinoceroses. Founded in 1977, it is one of the most well-known and respected wildlife conservation organizations in Africa. This elephant orphanage is dedicated to the rescue and rehabilitation of orphaned elephants. Visitors can watch the young elephants being fed and playing in the mud, and even adopt an elephant to support the conservation efforts. The DSWT was founded by Dr. Dame Daphne Sheldrick in memory of her late husband, David Sheldrick, who was the founding Warden of Kenya's Tsavo East National Park. The trust is named after David Sheldrick to honour his contributions to wildlife conservation. One of the trust's most famous and beloved projects is its elephant orphanage, located within Nairobi National Park. The orphanage rescues and cares for orphaned elephant calves, many of whom have lost their mothers due to poaching, human-wildlife conflict, or natural causes. The orphanage provides these young elephants with shelter, food, and veterinary care.
The DSWT offers an adoption program that allows individuals to "adopt" an orphaned elephant or rhinoceros. By adopting an orphan, supporters can contribute to the animal's care and the broader conservation efforts of the trust. The DSWT is also engaged in community outreach and education programs to raise awareness about wildlife conservation and the importance of protecting Kenya's natural heritage. The trust conducts aerial surveillance to monitor and protect wildlife, including elephants and rhinos, from poachers and other threats. The David Sheldrick Wildlife Trust is recognized for its dedicated efforts in preserving Kenya's wildlife and their habitats, as well as its commitment to the rescue, rehabilitation, and successful reintegration of orphaned elephants and rhinoceroses into the wild. It serves as an inspiration to those passionate about wildlife conservation and offers a tangible way for individuals to contribute to the protection of these magnificent creatures.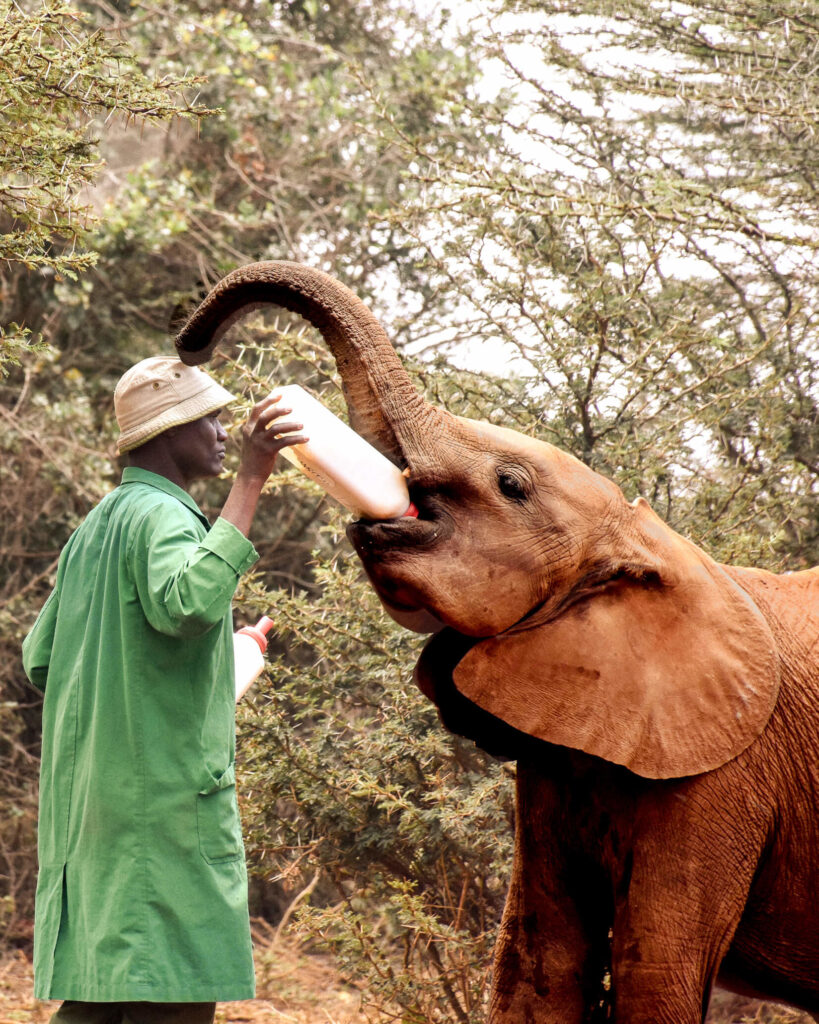 Giraffe Centre
The Giraffe Centre in Nairobi, Kenya, is a popular and iconic tourist attraction that provides visitors with the opportunity to interact with and learn about endangered Rothschild's giraffes. The Giraffe Centre, run by the African Fund for Endangered Wildlife, is a popular attraction where you can get up close and personal with Rothschild's giraffes. You can feed and interact with these graceful creatures while learning about their conservation. The Giraffe Centre is situated in the Karen suburb of Nairobi, approximately 20 kilometers from the city center. It is easily accessible and is often visited in conjunction with other nearby wildlife attractions, such as the David Sheldrick Wildlife Trust and Nairobi National Park.
The Giraffe Centre is dedicated to the conservation of Rothschild's giraffes, which are one of the most endangered giraffe subspecies in the world. These giraffes are characterized by their white stockings on their legs. The main attraction at the Giraffe Centre is the opportunity for visitors to feed the giraffes. The center provides specially formulated giraffe food pellets, and guests can hand-feed the giraffes from a raised platform. It's a unique and interactive experience. The Giraffe Centre is part of the African Fund for Endangered Wildlife (AFEW) and is involved in breeding and reintroduction programs for the Rothschild's giraffe. They play a vital role in increasing the population of this endangered giraffe subspecies.   
African Fund for Endangered Wildlife (AFEW), the organization that operates the Giraffe Centre, is dedicated to the conservation of endangered wildlife in Africa and is particularly known for its efforts to protect the Rothschild's giraffe. The Giraffe Centre in Nairobi offers a unique and memorable experience for visitors, allowing them to get up close to these majestic animals while contributing to the important work of giraffe conservation. It's a family-friendly attraction and a must-visit for wildlife enthusiasts and those interested in supporting wildlife conservation efforts in Kenya.
Karen Blixen Museum
The Karen Blixen Museum, also known as the Karen Blixen House, is a historic museum located in the Karen suburb of Nairobi, Kenya. The museum is situated in the former home of the famous Danish author Karen Blixen, best known for her memoir, "Out of Africa." Found at the former home of the famous Danish author Karen Blixen, this museum offers insights into her life and work. The Karen Blixen Museum is located approximately 10 kilometers from Nairobi's city center. It is situated on the outskirts of Nairobi, in a serene and picturesque area. The museum is housed in the historic farmhouse where Karen Blixen, under the pen name Isak Dinesen, lived from 1917 to 1931. During this period, she ran a coffee farm on the property and documented her experiences in "Out of Africa," a memoir that later became a celebrated book and a film.
The museum preserves the interior and ambiance of the colonial-era farmhouse, allowing visitors to step back in time and experience the surroundings that inspired Blixen's writing. The exhibits include period furnishings, photographs, and personal artefacts belonging to Karen Blixen. The museum pays homage to Karen Blixen's literary contributions and her life in Kenya, which are detailed in "Out of Africa." The book and the subsequent movie adaptation starring Meryl Streep and Robert Redford have made the house and its surroundings famous.
The museum is not only a cultural attraction but also serves as an educational institution that promotes an understanding of Kenya's colonial history and the life of Karen Blixen. It offers guided tours for a deeper exploration of the house and its history. The Karen Blixen Museum provides a glimpse into the life and times of one of the most famous authors to have called Kenya home. It's a must-visit for literature enthusiasts, history buffs, and anyone interested in the rich cultural heritage of Kenya during the colonial period. The museum's picturesque setting and the connection to "Out of Africa" make it a memorable and educational experience for visitors. There is a souvenir shop on the premises where visitors can purchase books, crafts, and gifts related to Karen Blixen and her work.
Nairobi National Museum
The Nairobi National Museum is one of the most prominent cultural and historical institutions in Kenya, located in Nairobi, the capital city. This museum offers a wide range of exhibits and collections that showcase Kenya's rich cultural, historical, and natural heritage. This museum showcases the rich cultural and natural heritage of Kenya. It features an impressive collection of art, history, and palaeontology exhibits, including the famous Turkana Boy, a fossil of an early hominid. The Nairobi National Museum is situated in the Museum Hill area of Nairobi, a short distance from the city center. It is surrounded by beautifully landscaped gardens and is easily accessible for both locals and tourists. The museum's exhibits cover a diverse range of topics, including archaeology, palaeontology, ethnography, art, and natural history.
The museum houses an extensive collection of paleontological artefacts, including the famous "Turkana Boy" (a Homo erectus fossil) and other significant discoveries from various Kenyan excavation sites. There are exhibits dedicated to the cultural heritage of Kenya's different ethnic groups, displaying traditional artefacts, clothing, and tools. The museum's botanical garden is home to a variety of indigenous plant species and offers a serene setting for leisurely walks. Visitors can explore historical artefacts, including traditional musical instruments, weapons, and masks. The museum provides insights into Kenya's rich cultural heritage, including the lifestyles, customs, and traditions of its diverse communities. Adjacent to the Nairobi National Museum, there is a Snake Park that features a collection of snakes and other reptiles, making it an informative and interactive experience for visitors interested in Kenya's wildlife.
The Nairobi National Museum is a place of learning and appreciation for Kenya's culture, history, and natural heritage. It offers an enriching experience for both locals and tourists who want to explore the diverse aspects of this East African nation's identity and legacy. Whether you're interested in art, science, history, or culture, the museum has something to offer for everyone. The museum offers educational programs and workshops for schools and other groups to promote understanding and appreciation of Kenya's heritage and biodiversity. The museum hosts various events, including cultural festivals, art exhibitions, and lectures, making it an active hub for cultural and artistic expression. 
Kazuri Beads Women's Cooperative
The Kazuri Beads Women's Cooperative, often referred to simply as Kazuri Beads, is a well-known social enterprise and pottery workshop located in Nairobi, Kenya. The cooperative is renowned for its handcrafted ceramic beads, pottery, and other handmade crafts. Kazuri Beads is a cooperative that produces beautiful handcrafted ceramic beads and pottery. Visitors can take a tour of the workshop and shop for unique, locally made souvenirs.Kazuri Beads is situated in the Karen suburb of Nairobi, approximately 20 kilometers from the city center. It's a popular destination for tourists and shoppers seeking unique, locally-made crafts. Kazuri Beads was founded in 1975 by the late Lady Susan Wood, a British expatriate who aimed to provide employment opportunities for single mothers in Kenya. The word "kazuri" means "small and beautiful" in Swahili, reflecting the delicate and intricate nature of the crafts produced by the cooperative. The primary products created by Kazuri Beads are hand-painted ceramic beads and pottery. These beads are used in the creation of beautiful jewelry, including necklaces, bracelets, and earrings. The pottery includes plates, bowls, mugs, and various decorative items. The crafts often feature vibrant colors and unique designs.
The cooperative employs primarily single and disadvantaged women, offering them a source of income and job skills. Kazuri Beads has played a vital role in empowering these women and improving their economic prospects.   Visitors to Kazuri Beads can take guided tours of the workshops, where they can observe the skilled artisans at work and gain insights into the bead-making and pottery processes. The cooperative contributes to community development, and the income generated by the sales of their products supports various social initiatives, including healthcare and education. Kazuri Beads Women's Cooperative not only offers a wide range of beautiful and unique crafts but also provides valuable employment and empowerment to disadvantaged women in Kenya. The cooperative's commitment to fair trade and community development has made it a popular and socially responsible destination for visitors to Nairobi. The cooperative has an on-site shop where visitors can purchase the handcrafted items, making it a fantastic place to buy unique and locally-made souvenirs and gifts.