Gulu is a city in the Northern Region of Uganda. located in northwestern Uganda, situated about 175 miles (285 km) north of Kampala at an elevation of about 3,600 feet (1,100 metres). It is the marketing centre of the main agricultural region of northern Uganda; cotton, tea, coffee, corn (maize), sorghum, and tobacco are grown in the surrounding area. Processing industries in Gulu include those that handle oilseed and grain milling. Cigarettes are also manufactured in the town. Gulu has a large number of refugee camps where Sudanese, Rwandese, and Congolese refugees, who entered Uganda beginning in the early 1960s, are permanently settled. The town is linked by road and railway with Lira, Soroti, and Pakwach and has an airport as well. Pop. (2008 est.) 141,500. It borders the districts of Adjumani in the north, Arua and Nebbi in the West, Pader I the East, Apac and Masindi in the south and the Republic of Sudan in the north. It is the western part of the former Acholi District. Gulu's economy is based on the wholesale and retail trades, the construction industry, and non-agricultural household-based enterprises. Major sources of employment include commerce, trade, industry and public services. Gulu's Acholi people have a rich cultural heritage, which is expressed through dance and music. Originally Gulu District was part of Acholi district before it was declared district its own. The Acholi was divided into two and west Acholi became Gulu district and kitgum district. In the era of colonial rule, the northern region or Uganda was so not developed as other regions of Uganda, therefore a lot of local people were deployed into police and army where other were sent to fight in the first and second world wars. In the due course a lot of Rwandese, Congolese and the Sudan's refugees were influenced to come and settle in the area.
Gulu is a vibrant city in northern Uganda. It's known for its rich cultural heritage, history, and its emergence as a bustling urban center. While it may not have the same level of tourism infrastructure as some of the more well-known destinations in Uganda, a tour of Gulu offers a unique opportunity to experience the culture and history of northern Uganda.
Places To Sight/Visit While You Are On Gulu City Tour
Murchison Falls National Park
This is the largest national park in Uganda and most popular attraction in the north western region of Uganda. It was established in 1952 and it harbors a diversity of majestic wildlife including the Africa big five animals such as giant Elephants, African buffaloes, lions, leopards plus other animals such as the giraffes, kobs, the crocodiles, hippos, waterbucks, warthogs, baboons, primates like chimpanzee, monkeys among other wildlife.  There are other attractions like Murchison Falls and you will enjoy activities like Wildlife viewing, bird watching experience, chimpanzee trekking, boat cruise experience among others.  The park can be accessed so easily from Gulu town and it will you about 3 and half hours to reach Murchison falls national park on a 4×4 wheel vehicle.
Sir Samuel Baker's Fort at Patiko
The fort is situated about 30 kilometers from Gulu in the parish of Ajulu, Aswa County and Patiko Sub County. Initially the fort was established as a slave collection place however the fort was taken up by Sir Samuel Baker before it was launched as the Headquarter of Amin Pasha and Gordon who were the governors of equatorial province of the British Protectorate.  When you visit Gulu, it is one of the perfect places to explore and experience the hierarchy of offices and stores at the historical building plus it amazing ancient Archectural design.
Atiak Colobus Monkey 
The Atiak forest reserve close to the Albertine Nile has got high concentration of the black and white colobus monkeys plus rare mammals and a diversity of bird species. The savannah shirt forest canopies offer a diversity of tourist potential attraction which has been backed up by excursion sites, tourist trails to build a perfect product.
Amoro Hot Spring
These geographical features are situated about 35 kilometers close to Gulu Town in Amoro sub-county, Page Parish, Kilak County.  The Amoro Hot Springs covers an area of approximately 100 square meters and this is the largest hot spring that is located in northern region of Uganda. It is one of the less explored hot springs but features potential tourism thrilling experience.
Karuma Falls
The other western Part of Karuma Falls is situated in Gulu district, the Eastern part is in Apac and the southern part in district of Masindi. This has got a lot of tourism potentials that can be explored on your visit to Gulu town.
Guruguru Caves
The guruguru Caves are situated north of Gulu Town and them about 25 kilometers away. These acted as hiding Havens for the Lamogi rebellion which were the interesting historical conflicts of the Luo people. The caves allow an addition diversification of the tourism products if they are developed for future tourism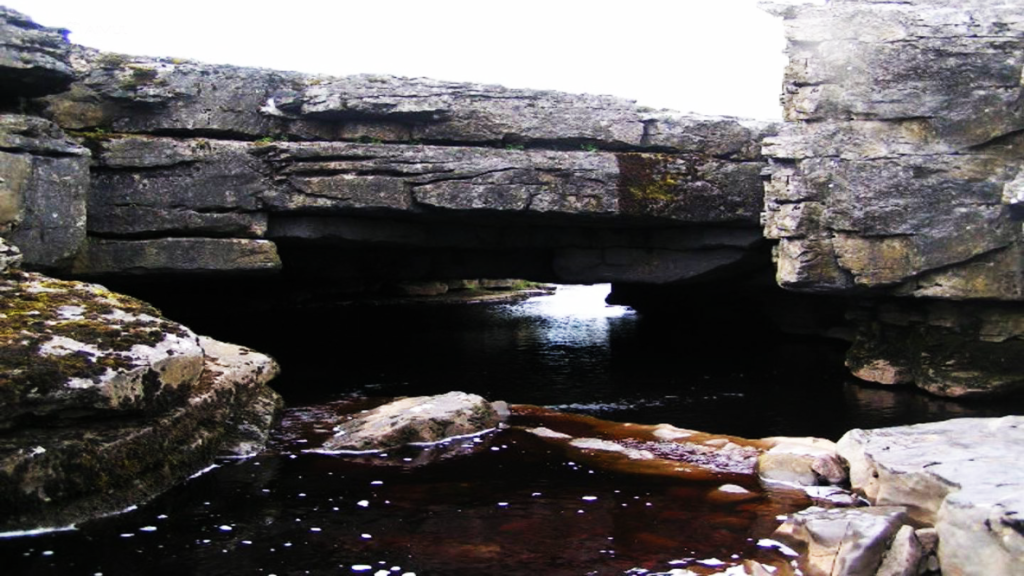 Ziwa Rhino Sanctuary
The rhino population in Uganda dramatically dropped due to poaching and previous civil conflict. Ziwa Rhino Sanctuary is currently home to 32 white rhinos. While there are no rhinos living freely in any of the national parks, there are plans to release the sanctuary rhinos into the wild when their population is large enough. At Ziwa you will have the opportunity to explore the sanctuary with a ranger guide. You can track these magnificent and endangered rhinos on foot to see them in their natural habitat. There are also activities at the sanctuary for birding fans. Over 300 species of birds live in the sanctuary, including the elusive Shoebill Stork.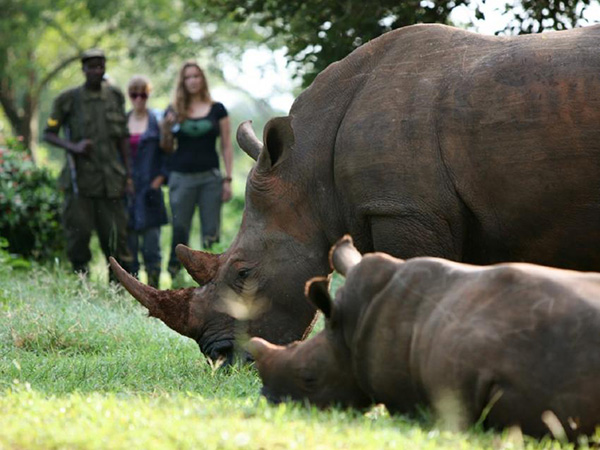 Aruu Falls
Located in Pader, Aruu Falls is a spectacular natural wonder near Gulu, Uganda. Surrounded by an ever-green forested backdrop, Aruu Falls roars down the staircase rock formation. The site is still a mystery to many of the locals, but its beauty and refreshing escape from the heat are no secret.
If you plan to make your way to Aruu Falls to enjoy this not-so-hidden jewel yourself, you can opt for a day trip or overnight camping. The area has recently been privatized, which has brought more development and accommodation options for tourists. Visiting Aruu Falls is best during the dry season. During the rainy season, the water level increases dramatically, as well as the current, which can become dangerous.
TAKS Art Centre
Through Art Keep Smiling or TAKS art cent is a space for art and culture.  Once a colonial clubhouse for the British, this space has been transformed and run by the community for the community. The large garden compound is a quiet space to meet up with friends for a drink or snack or get some work done. Inside the centre you can find a small gift shop and various activity rooms used by the community. TAKS Centre also hosts great events like dance competitions and concerts. This is a great opportunity to see local artists and traditional and modern dance troupes.
Visit Gulu Main Market
The Gulu Main Market is a one-stop shop. You can easily spend an hour or two walking the massive three-story building and all of the additional shops that have taken over the parking lot. If you plan to visit the main market it may be overwhelming with all of the sounds, smells, and things to look at. Here's a quick rundown of where you'll find everything.
Gulu War Museum
Learn about the history of the conflict in northern Uganda, particularly the impact of the LRA insurgency, at the Gulu War Museum. The museum is dedicated to preserving the history and memories of the conflict that plagued northern Uganda for many years, particularly the atrocities committed by the Lord's Resistance Army (LRA) insurgency led by Joseph Kony.
Cultural Performances
Attend cultural performances or dance shows to witness traditional music and dance, often featuring the vibrant Acholi culture. The Acholi people, who are the predominant ethnic group in the region, have a vibrant cultural tradition that includes music, dance, storytelling, and rituals.
The traditional Acholi dances plus the antiquities have not been modified so as they can tap a potential benefit from cultural tourism. However, there are future plans by the local authority to fully establish the culture centers in Gulu Town where tourists can find souvenirs, crafts, ornaments, and regalia among others.
Gulu Night Life
Gulu has a growing nightlife scene with bars, clubs, and restaurants where you can enjoy traditional Ugandan music and dance. Night Clubs in Gulu city are vibrant and full of life. At night clubs in Gulu, there is something for everyone. From the latest fashion trends to the hottest DJs, there is always something new and exciting to experience. Many night clubs offer a variety of activities, such as pool, darts, and karaoke, as well as special events like themed parties and live performances. Additionally, many of these venues have food and beverage options, so you can enjoy a night out on the town without having to worry about finding a place to eat.
Gulu is also a gateway to exploring other parts of northern Uganda, which is known for its unique cultural heritage and beautiful landscapes. If you plan to visit, it's a good idea to check for any updates, including travel safety information.