Entebbe city located in south-central Uganda. Entebbe is situated 21 miles (34 km) south of Kampala, at the end of a peninsula that juts into Lake Victoria. It was founded as a garrison post in 1893 and served as the British administrative centre of Uganda until 1958. Its elevation (3,760 feet [1,146 metres] above sea level) gives it a perpetually summer climate. Entebbe has noted botanical gardens, a veterinary research laboratory, and a virus research institute. Basically a residential centre for government employees, the city has no industry. It is, however, a transportation crossroads for eastern Africa, with an international airport and steamship connections via Lake Victoria to the countries of Kenya and Tanzania and to other parts of Uganda. The airport was the site of an Israeli airborne commando raid on the night of July 3/4, 1976, that freed 103 hostages from a jet hijacked by Palestinian and West German militants Entebbe raid. The population is about 69,958  by 2014 with small minorities of Europeans. The Asian minority was largely expelled in 1972 upon orders from Idi Amin, Uganda's president at the time. Pop. (2008 est.) 70,200. Besides its historical sites and the botanical gardens, Entebbe offers tourists opportunities for water sports and boat cruises on Lake Victoria. Ngamba Island Chimpanzee Sanctuary, located on the lake, is another popular tourist destination.
Entebbe is known for its picturesque location along the shores of Lake Victoria. The city has several beautiful beaches, parks, and gardens. The Entebbe Botanical Gardens, in particular, are renowned for their lush greenery and abundant birdlife. The city is home to several conservation and wildlife centers, including the Uganda Wildlife Education Centre (UWEC), formerly known as the Entebbe Zoo, and Ngamba Island Chimpanzee Sanctuary. These facilities promote wildlife conservation and provide opportunities for visitors to learn about Uganda's rich biodiversity. Entebbe city also has a range of accommodations, from hotels and guesthouses to luxury resorts. You can also find a variety of restaurants and eateries serving both Ugandan and international cuisine.
Entebbe is often seen as a more relaxed and peaceful alternative to the bustling capital city of Kampala. It's a common starting or ending point for travelers exploring Uganda due to its international airport and proximity to popular national parks and wildlife reserves, such as Murchison Falls National Park and Bwindi Impenetrable Forest National Park. Entebbe's unique history, stunning natural beauty, and important transport infrastructure make it a city of significance in Uganda and East Africa. It continues to attract both international traveler's and researchers interested in Uganda's rich biodiversity and cultural heritage. It's also a city with a relaxed atmosphere, making it an ideal place to unwind after exploring the country's national parks and wildlife reserves. It's also a city with a relaxed atmosphere, making it an ideal place to unwind after exploring the country's national parks and wildlife reserves.  
Places To Sight/Visit While You Are On Entebbe City Tour
Botanical Gardenhe
The Entebbe Botanical Gardens, located in Entebbe, Uganda, is a renowned botanical garden and natural attraction. Established in 1898 during the colonial era, the gardens are one of the oldest in East Africa and offer visitors a chance to explore diverse plant species, enjoy the serene environment, and observe various wildlife. The gardens are situated on the northern shores of Lake Victoria, providing stunning views of the lake and its surroundings.
Entebbe Botanical Gardens cover an area of approximately 40 hectares (99 acres), making them a significant green space in the city. The gardens also serve as an educational and research center, allowing botanists, scientists, and nature enthusiasts to study plant species, biodiversity, and conservation efforts
The Entebbe Botanical Gardens offer a unique blend of natural beauty, biodiversity, and relaxation. Whether you're a nature enthusiast, a birdwatcher, or simply seeking a peaceful retreat, the gardens provide an excellent opportunity to connect with Uganda's flora and fauna in a tranquil and scenic environment.
Uganda Wildlife Education Centre
The Uganda Wildlife Education Centre (UWEC), formerly known as the Entebbe Zoo, is a conservation and educational institution located in Entebbe, Uganda. It serves as a hub for wildlife conservation efforts, environmental education, and research. UWEC's primary mission is to "rescue, rehabilitate, and release injured and orphaned wildlife." It plays a crucial role in the conservation of Uganda's diverse wildlife species. The center was established in 1952 as the Entebbe Zoo and has evolved over the years to focus on wildlife conservation and education.
UWEC is involved in the rescue and rehabilitation of injured, orphaned, and confiscated wildlife. It provides a safe haven for animals that cannot be released back into the wild due to various reasons, such as physical disabilities or habituation to humans. The Uganda Wildlife Education Centre plays a vital role in the conservation of Uganda's wildlife heritage and the education of the public, especially the younger generation, about the importance of protecting the country's natural resources. It serves as an important institution in the field of wildlife conservation and environmental education in Uganda.
Ngamba Island Chimpanzee Sanctuary
The Ngamba Island Chimpanzee Sanctuary is a conservation facility located on Ngamba Island in Lake Victoria, near Entebbe, Uganda. It is dedicated to the rescue, rehabilitation, and protection of orphaned and confiscated chimpanzees. The primary mission of the Ngamba Island Chimpanzee Sanctuary is to provide a safe and natural habitat for chimpanzees that have been rescued from illegal trade, poaching, or captivity. The sanctuary aims to rehabilitate these chimpanzees and ultimately release them back into the wild when possible. Ngamba Island Chimpanzee Sanctuary was established in 1998 as a collaborative effort between the Chimpanzee Sanctuary & Wildlife Conservation Trust (CSWCT) and the Uganda Wildlife Authority (UWA).  
The sanctuary provides a secure and protected environment for rescued chimpanzees. Many of these chimpanzees were confiscated from illegal traders or individuals who had kept them as pets. The sanctuary conducts educational programs and tours to raise awareness about chimpanzee conservation and the importance of protecting their habitat. The sanctuary provides quality care for the chimpanzees, including a balanced diet, veterinary care, and enrichment activities to stimulate their mental and physical well-being. Ngamba Island offers volunteer and research opportunities for individuals interested in contributing to chimpanzee conservation and behavior research.  
The Ngamba Island Chimpanzee Sanctuary plays a crucial role in the conservation of chimpanzees in Uganda and the broader East African region. It serves as a model for chimpanzee rescue and rehabilitation efforts and contributes to the education and awareness of the importance of protecting these endangered primates and their natural habitat.
Lake Victoria And Beaches
Lake Victoria, Africa's largest freshwater lake and one of the Great Lakes of Africa, offers several beautiful beaches along its shores, providing opportunities for relaxation, water sports, and breathtaking views.
Lido Beach (Entebbe, Uganda): Lido Beach is a popular destination for both locals and tourists in Entebbe, Uganda. It offers a serene environment with sandy shores and clear waters. Visitors can swim, sunbathe, enjoy picnics, or take leisurely walks along the beach. The beach also has a range of restaurants and bars.

Speke Resort and Munyonyo Commonwealth Resort Beaches (Kampala, Uganda): These resorts, located on the outskirts of Kampala along Lake Victoria, have their private beaches. They offer a variety of water activities, including boat rides, canoeing, and fishing. The sandy beaches are perfect for relaxation, and the resorts provide luxurious accommodations. 

Ssese Islands Beaches (Uganda): The Ssese Islands, a group of islands in Lake Victoria, are known for their pristine beaches. Each island has its unique charm, offering a mix of relaxation and adventure. Beaches on Bugala Island, in particular, are popular among traveler's.

Imperial Resort Beach: The Imperial Resort Beach is part of the Imperial Resort Beach Hotel in Entebbe. Visitors can access the beach as hotel guests or by purchasing day passes. It offers a relaxing atmosphere, water sports activities, and a lovely view of the lake.

Nkumba Beach: Nkumba Beach is located near Nkumba University and is a favorite destination for both students and locals. The beach is known for its beautiful sunsets and is a great place for swimming and relaxation. It often hosts events and parties.

Spenah Beach: Spenah Beach is situated in Nambi Village, just a short drive from Entebbe town. It provides a calm and peaceful environment for visitors to unwind. You can rent beach chairs and umbrellas and enjoy a day of swimming and relaxation.

Anderita Beach: Anderita Beach is another popular destination near Entebbe. It offers a beautiful setting for picnics, swimming, and water sports. The beach is known for its water trampolines and boat rides.

One Minute Beach: Located a short distance from Entebbe's main town, One Minute Beach is a convenient spot for a quick getaway. It's a great place for a refreshing swim and has facilities for picnics and relaxation.

Nalubaale Island (Formerly Mandela Island): This island, accessible by boat from Entebbe, offers a unique experience. It has a small beach where visitors can relax, swim, and take in the tranquil surroundings. 
Uganda Reptile Village
The Uganda Reptile Village is a reptile conservation and educational center located in Entebbe, Uganda. It is dedicated to the conservation of Uganda's reptiles, the education of the public about these often-misunderstood creatures, and research into reptile biology and conservation. The reptile village in entebbe was established in 2002 by Yasin Kazibwe, a reptile expert who has rescued over 40 different species of snakes. Reptile village is situated off the Kampala-Entebbe highway. It is 3Km off the main road. The lush green village is not a place for holiday makers, but a destination ideal for excursions. The founders of the village emphasize the purpose of the village as an education centre about reptiles where people on tours in Uganda go to learn and research and also a habitat for different reptile species
Besides snakes, chameleon, tortoises, crocodiles and monitor lizards are resident in the village. They are safely guarded in cages whereas the crocodiles are in a huge pond and therefore visitors on Uganda safaris are safe while visiting. Yasin dedicated his life to the conservation of reptiles. Visitors are given an opportunity to lift the African rock python under the supervision of the reptile guides. Quite a frightening experience, but a moment to put away ones fears. The Uganda Reptile Village plays a vital role in the conservation of Uganda's reptile species and in educating the public about these creatures. By dispelling myths and fears associated with reptiles and promoting coexistence, the centre contributes to the protection of these important and often misunderstood members of the animal kingdom.
Entebbe International Airpot
Entebbe International Airport is the only international airport in Uganda. It is located about 6 kilometres southwest of the town of Entebbe, on the northern shores of Lake Victoria. This is approximately 40 kilometres by road south-west of the central business district of Kampala, the capital city of Uganda. Entebbe International Airport has a rich history. Uganda first witnessed a civil Aviation motorized aircraft in its space in the early 30s when "a flying boat" landed at Port bell, south east of Kampala on the shores of lake Victoria to deliver mail. The mail delivery service had earlier started in neighboring Kenya in 1929 by Wilson Air ways. The service facilitated communication between the colonial centers in the region.
Entebbe was not only a bastion of the colonial structure in Uganda, it also provided easy navigation across the lake. Air Navigation services were at the time done through rudimentary technology. It was originally established during the colonial era and served as the main airport for Uganda until the construction of the new terminal at Kampala's Kololo Airstrip in the 1960s. The airport gained international prominence due to the daring Israeli military operation known as Operation Entebbe or Operation Thunderbolt in 1976 when Israeli commandos rescued hostages held at the airport during a hijacking incident.  
The airport has a modern passenger terminal equipped with facilities for both domestic and international flights. It features customs and immigration services, duty-free shops, currency exchange, car rental services, and a variety of restaurants and cafes. Entebbe International Airport also has cargo handling facilities that play a crucial role in trade and logistics in the region. The airport has one paved runway, Runway 17/35, which is approximately 3,658 meters (12,000 feet) long. This runway can accommodate a wide range of aircraft, including large international carriers. Entebbe International Airport is not only a key transportation hub for Uganda but also an important gateway to the region, providing access to neighbouring countries in East Africa. Its strategic location, historical significance, and ongoing development make it a vital asset for Uganda's economic and tourism sectors.
Mabamba Swamp
Mabamba Swamp, also known as Mabamba Bay Wetland System, is a renowned wetland area located on the northern shores of Lake Victoria in Uganda, near the town of Entebbe. It is a critical and internationally recognized birding site, famous for being one of the best places in Uganda to spot the elusive Shoebill Stork.  The swamp is a prime wetland birding site famous for the Shoebill which is Uganda's most sought after bird by Uganda birding tourists as well as by nature lovers, mabamba swamp is situated about 50 kilometres (31 miles) from Uganda's capital, Kampala, and is easily accessible from Entebbe. Mabamba swamp is a Ramsar site and Important Bird Area (IBA). The wetland hosts over 300 bird species that include many globally threatened species, 7 of Uganda's 12 Lake Victoria biome restricted species (notable is the Papyrys Gonolek) and plenty of wetland specialties. The wetland also hosts huge flocks of Paleartic migrants every year from October to March.
Mabamba Swamp is a birdwatcher's paradise, known for its diverse avian population. The highlight of birdwatching at Mabamba is the opportunity to spot the Shoebill Stork, a prehistoric-looking bird with a distinctive shoe-shaped bill. In addition to the Shoebill, Mabamba Swamp is home to various other bird species, including African Jacana, Malachite Kingfisher, Swamp Flycatcher, and various herons, egrets, and raptors. Many tour operators in Entebbe and Kampala offer guided boat tours to Mabamba Swamp specifically focused on shoebill spotting. These tours are typically conducted in traditional dugout canoes, allowing visitors to navigate the narrow channels and papyrus reeds where shoebills are often found. Visiting Mabamba Swamp offers a memorable and unique wildlife experience, especially for bird enthusiasts. It provides an opportunity to witness the stunning beauty of Uganda's wetland ecosystems and the chance to observe some of its most sought-after avian residents, particularly the iconic Shoebill Stork.
Entebbe night life, Uganda, offers a vibrant nightlife scene with a variety of entertainment options, including bars, clubs, restaurants, and cultural performances. Night Clubs in Entebbe are vibrant and full of life. They are popular spots where people go to have a good time and enjoy themselves. The atmosphere of a night club in Entebbe are unique, with a mixture of music, dancing, and other forms of entertainment. Popular music genres include Afrobeat, hip-hop, R&B, and reggae, as well as international music. In addition to the music, there are often multiple bars, lounges, and VIP areas at night clubs in Uganda. These offer a range of drinks and cocktails and are great places to socialise and party the night away. Some hotels and resorts in Entebbe host cultural performances, including traditional music and dance shows. Check with your accommodation for any scheduled cultural events during your visit.
Entebbe's lakeside location offers the opportunity to enjoy a peaceful evening by Lake Victoria. Many lakeside restaurants and bars provide a serene atmosphere for a relaxed night out. While Entebbe generally has a welcoming and friendly nightlife scene, it's essential to exercise the same caution you would in any other city. Stick to well-known venues, travel in groups, and be mindful of your belongings. Please note that nightlife options in Entebbe may vary, and it's a good idea to check current offerings and schedules, especially if you're visiting on specific dates or during holidays.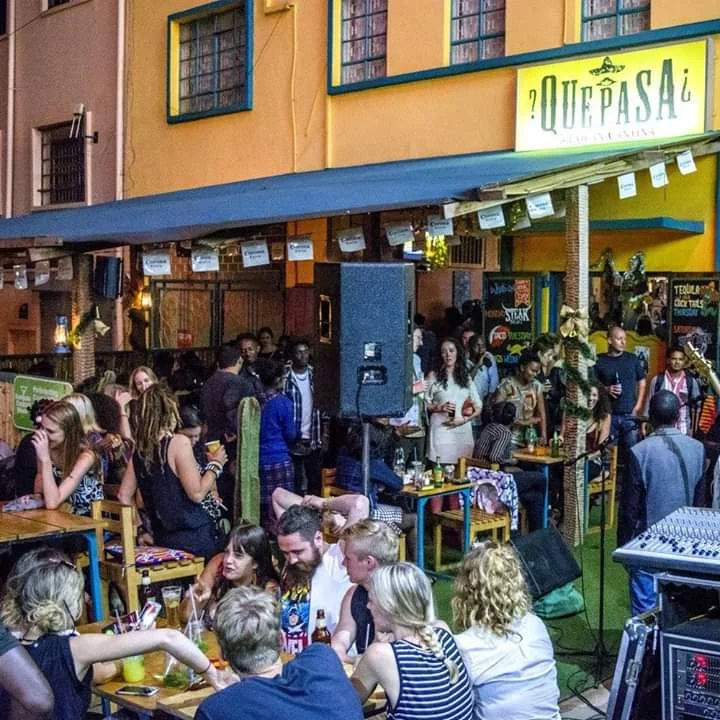 Remember to plan your tour according to your interests and the time you have available. Entebbe is a city with a lot to offer, from its rich cultural heritage to its vibrant urban life. Make sure to respect local customs and dress modestly, especially when visiting religious sites. Also, consider hiring a local guide to enhance your experience and gain deeper insights into the city's history and culture.